---
---
The Genuine BLTouch Automatic Bed Leveling Touch Sensor from ANTCLabs is the easiest and most reliable method we have found to automatically level your 3d Printer bed.
To use it with the MendelMax 2, MendelMax 3 or MTW Create, be sure to add the optional wire harness and the optional mounts either for the MM3 or MTW Create to save having to create your own.

 

Main functions and controls of BLTouch are same as usual auto bed leveling sensor, consists of RC servo and micro switch.
Thus, BLTouch can be applied on almost every board.
BLTouch fulfilled simple structure and high precision by using progressively designed solenoid and hall sensor, and aimed user convenience and enjoyable printing by adding many smart functions, self-test, alarm, alarm release, test mode for M119.
Simple
BLTouch can be easily applied, since it has a small and simple structure.

Gathering information & firmware setting will be an easy task, because BLTouch works as usual auto bed leveling sensor.
Smart
Self-test : The push pin is operated three times to test when the power is on

Alarm : The LED light blinks if a problem found on a self-test or on an operation
High-precision
BLTouch's Standard Deviation in repeatability is around 0.005mm, at that precise.

(refer to attached video)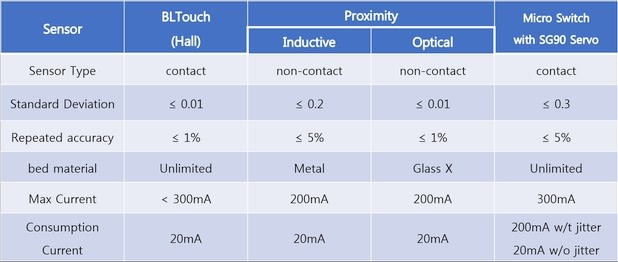 ※ The data above can be varied by assembling shape and other environments.
※ In this video, the result of Standard Deviation was around 0.001mm.
But at the other low quality 3D printer, we just get the value as 0.001~0.05mm. (It was the same BLTouch.) Actually, around 0.05 is also not much problem at FDM type 3D printers.
Unlike 3D printer firmware, There isn't any delay at BLTouch, because it uses interrupt inside.
So, BLTouch outputs pulse signal as soon as a hall sensor senses a magnet.
The things that affect to Standard Deviation is,
1. Probing speed of 3D printer
2. Assembled quality of 3D printer
3. Destroyed(Damaged) push-pin
If you choose BLTouch, your 3D printer will be high-class masterpiece, giving you an enjoyable experience.

BLTouch consists of Atmel ATtiny13A, solenoid, and a push pin.
Innovative Solenoid : Ultra Power Saving
On idle state, while the push-pin is whether pulled out or retracted, there are not any electric current flowing on solenoid, and standby electric current in the whole device is below 15mA on average, whereas on working state, while the pin is moving in sudden about 100ms, under 300mA flows in the device.
Low power consumption even further drops joule heating, preventing from heat problem.
Hall Sensor : Free Bed Selection
BLTouch does not uses either optical, nor proximity(inductive/capacitive) sensor.
BLTouch is controlled by hall effect, providing high precision. Thus the bed material can be selected freely.
Optimized structure : Larger Build Size
BLTouch is a small, and technology-intensive one. Build size can be set larger than other existing auto bed leveling sensor.
BLTouch uses existing RC Servo motor signal intactly, so just plug BLTouch on the same pins after removing servo motor.
Installation
You can find installation instructions for the MendelMax 3 & MTW Create in their respective manuals. For non-MTW printers, see instructions in this PDF.
---